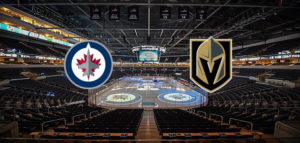 After defeating the top team in the NHL on Tuesday the Jets have another tough opponent when they do battle tonight with the top team in the Western Conference in the Golden Knights.
Big question ahead of today's morning skate is the status of Dmitry Kulikov who skated in a normal uniform at yesterday's practice.  He is recovering from a concussion and while he was cleared for contact yesterday it was clear that the Jets wanted to see how he was doing today before they made any determinations.
The projected lines & D pairs are based on the last game and will be updated when the Jets take the ice or once coach Maurice provides an update following skate.
Morning skate notes:
According to Jaime Thomas of Jets TV the only member of the squad not skating this morning is Tobias Enstrom who has been taking a number of maintenance days.  Despite this coach Maurice indicated yesterday that Enstrom would be a player tonight.  Ken Wiebe of the Winnipeg Sun indicated that Mark Scheifele is back on the ice with his team mates in a non-contact uniform.
Health Update:
Coach confirms Dmitry Kulikov remains out of the lineup for today's game but said "I fully expect him to be in the lineup vs Colorado (on Saturday)".  So the lines will be the same as last game against Tampa.  Goalie Steve Mason took to the ice for the first time today since suffering a concussion according to the Jets bench boss "Real long kind of curve on this one.  We'll run a real light skating day for a number of days before we start pushing any harder."
Jets lines, D pairs and goalies:
Laine – Wheeler – Roslovic
Perreault – Little – Ehlers
Copp – Lowry – Armia
Connor – Hendricks – Tanev
Morrissey – Myers
Enstrom – Byfuglien
Chiarot – Poolman
Hellebuyck
Hutchinson
Extra:  Dano.
Injuries:  Trouba, Scheifele, Mason, Matthias and Kulikov.
Audio:
Blake Wheeler
Coach Maurice:  Update on Kulikov.  Thoughts on his third pairing.  Jets improved penalty kill.  Change of the penalty kill structure.  What has he noticed from Jack Roslovic since the move to the top line?  What changed to move the NHL from big/heavy hockey to speed.  How much does he attribute speed to Vegas success?  Can he design a system that can be successful regardless of the parts?  On the consistency of Hellebuyck's game and what it has meant to the team.  Is the goaltending now a strength of this team?  Update on Steve Mason.
Audio courtesy of TSN 1290 Winnipeg.
Golden Knights lines, D pairs and goalies:
Smith-Karlsson-Marchessault
Perron-Haula-Neal
Leipsic-Eakin-Tuch
Lindberg-Bellemare-Carrier
Engelland-Theodore
Garrison-Schmidt
Miller-Hunt
Fleury
Subban
Vegas lineup comes via Brian Munz of TSN 1290 Winnipeg.
As always stay tuned for the latest Winnipeg Jets and Manitoba Moose news by keeping it locked to our web site illegalcurve.com and on social media including Twitter | Facebook | Instagram. You can also follow me on twitter as well (@icdave).