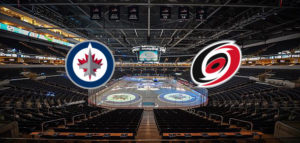 The Jets are facing one of the hottest teams in the NHL tonight when they take on the Hurricanes.  Carolina pulled off an OT win over the Wild last night in St. Paul outshooting Minnesota 57-23 to improve to 4-0-1 in their first five games.
AM skate notes:
Laurent Brossoit will be making his regular season debut for the Jets tonight according to Jason Bell of the Winnipeg Free Press.  Ken Wiebe of the Winnipeg Sun indicated that Dmitry Kulikov will make his return to the lineup but it is unclear as to who he will replace.  Ken did tweet that Jacob Trouba was back on the ice while Ben Chiarot and Dustin Byfuglien as well as Bryan Little didn't skate this morning.
Health news:
Coach Maurice indicated that Dustin Byfuglien won't play tonight.  The Jets big defenceman sustained an upper-body injury and is day-to-day.  He fell in practice yesterday.
Projected lines & D pairs:
Connor-Scheifele-Wheeler
Ehlers-Little-Laine
Copp-Lowry-Tanev
Vesalainen-Roslovic-Perreault
Morrissey-Trouba
Kulikov-Chiarot
Morrow-Myers
Brossoit
Hellebuyck
Audio:
Coach Maurice: On missing players.  Biggest difference in the Hurricanes this season.  With no Byfuglien what is his mindset to get Kulikov involved in the game?  In Brossoit getting a start tonight.  On the continuity of the Lowry line.  More on the Byfuglien injury.  Was Brind'Amour someone he expected to be a coach? How did Brind'Amour fitness change the guys around him? On the evolution of fitness in the NHL.
All audio courtesy of TSN 1290 Winnipeg.
Up next:
Puck drop is at 6 pm.