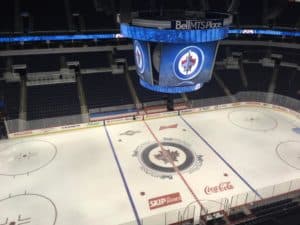 Numbers:
– Blake Wheeler had a goal and two assists;
– Mark Scheifele had two goals (including a shorthanded one) and one assist;
– Skylar McKenzie, in his first NHL game, scored twice. (he had similar success in his first pro game in the AHL last season when he played in the playoffs for the Moose.  He scored in game 3 of the 1st round series against the Griffins, which turned out to be the game winner).
Audio:
Skylar McKenzie
CJ Suess
Jansen Harkins
Blake Wheeler
Mark Scheifele
Coach Maurice