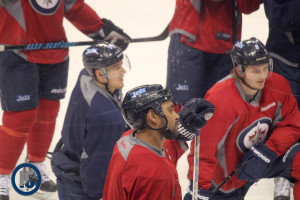 Via Brian Munz of TSN 1290 Winnipeg we get the projected lines, D pairs and starting goalie:
Ehlers-Scheifele-Laine
Perreault-Little-Wheeler
Matthias-Lowry-Armia
Copp-Petan-Stafford
Morrissey-Byfuglien
Enstrom-Trouba
Chiarot-Postma
Hellebuyck
Hutchinson
Player audio:
Jacob Trouba:  On his role in the Nutcracker.  What he anticipates from the Islanders.  What has Laine meant to this team?  Does he feel in the last few games that his game has elevated?  Has it been a more conscious decision to activate more of late?  What didn't they do against Columbus that they want to get back to tonight?
Patrik Laine:  On what is happening with the Finnish team at the World Juniors.  Hard to see it happen to Team Finland?  How would he describe 2016 for him?  Can 2017 top 2016?  On the development of his game this season. Any adjustment getting used to the size of the ice.  Is he feeling good?  Part of the adjustment to the NHL.  Did Nikolaj Ehlers give it to him when Denmark beat Finland?  Was he surprised to see the coaching change?
Blake Wheeler:  On facing Ladd.  On what they need to do against the Islanders.  What didn't they do against Columbus that they want to get back to tonight?  How would he describe Laine's game?  Was he a Prince fan?  Does he know any difference from the Eastern Conference teams this season?  Does he like the speed style or the heavier style?  Striking balance between speed and physical.
Coach audio:
Paul Maurice:  Two teams desperate for a win.  Dano's situation.  Hellebuyck starts.  On Laine's development.  Plan for the 4th line.  Thoughts on 2016.  Why Copp?  Have the injuries helped the young players process?  Has he noticed Nic Petan's speed this season?
Audio courtesy of TSN 1290 Winnipeg.
Here are the Islanders projected lines, D pairs and starting goalie:
Lee-Tavares-Bailey
Prince-Nelson-Strome
Ladd-Quine-Chimera
Kulemin-Cizikas-Clutterbuck
Leddy-Hamonic
Hickey-Boychuk
De Haan-Seidenberg
Greiss
Berube