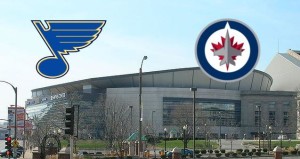 The Jets are looking to erase the memory of a 5-1 defeat after losing the first of four against the division.  They will face off the Blues tonight in St. Louis in the first game of a home and home series which will conclude tomorrow night in Winnipeg.  Coach Maurice left it open as to who would be in net for the Jets although it appears his lines will remain unchanged.
Morning skate notes:
According to Ken Wiebe of the Winnipeg Sun it's an optional skate for the Jets today. Missing from skate is Myers, Kulikov, Little, Lowry and Perreault.
Ken also indicated that Steve Mason will start tonight.
Jets projected lines, D Pairs:
Connor – Scheifele – Wheeler
Ehlers – Little – Laine
Copp – Lowry – Tanev
Perreault – Hendricks – Armia
Morrissey – Trouba
Chiarot – Poolman
Kulikov – Myers
Mason
Hellebuyck
Extras:  Matthias & Dano, Melchiori
Jets pre-game audio:
Steve Mason
Kyle Connor
Coach Maurice:  What makes this the right game to get Steve Mason back in the net?  Giving Hellebuyck the opportunity to work on some things with some time off.  Knocking off the rust for Steve Mason.  On Chris Thorburn facing his former squad.  Getting a player like Hendricks to replace Thorburn.  On the impact of the loss of Byfuglien/Enstrom.  On the play of Schenn/culture of the Blues.  Thoughts on the home and home series.
Blues pre-game audio:
Chris Thorburn
Audio courtesy of TSN 1290 Winnipeg.