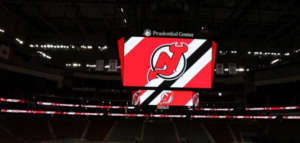 The Jets kicked off the road trip with a 4-3 OT win over the Devils in New Jersey which improves their record to 15-8-2 on the season thanks to Mark Scheifele's second goal of the game and 15th of the season.
For those who would like to take a deeper dive into the advanced stats here are the results from tonight's game via Natural Stat Trick.
Game play:
– Bit disjointed opening frame for Winnipeg with the Devils swarming the Jets early;
– Wpg couldn't bury a chance at their end so NJ counterattacked and opened the scoring;
– It was a different middle frame for the Jets as they came out skating hard;
– Mark Scheifele finished off a beauty pass by Blake Wheeler to tie the game;
– Josh Morrissey finished off a beauty sequence by Jack Roslovic to give the Jets a 2-1 lead;
– Andrew Copp buried a rebound off a Mason Appleton shot to make it 3-1 for the Jets;
– Devils got a power play goal late in the 3rd to make it a one goal game;
– And with the goalie pulled the Devils tied up the game.
– OT was simply bananas with both teams having plenty of chances & both goalies making beauty stops;
– late in the extra time Mark Scheifele with a fantastic solo effort ends the game.
Notable:
– Mark Scheifele had 2G (14, 15) and has a four game points streak (4G 4A);
– That OT winner was the fifth of Mark Scheifele's career (he now leads the Jets in that category);
– Blake Wheeler had 1A (29) and also has a four game points streak(1G 7A);
– Mason Appleton gets his first NHL point (an assist) in his first NHL game;
– Laurent Brossoit is now 5-1 for the Jets in goal.
Jets audio:
Mark Scheifele
Mason Appleton
Lauren Brossoit
Josh Morrissey
Coach Maurice:  What does that win do for the team at the start of a road trip?  On Scheifele ending the game in OT.  Usage of the 4th line and Appleton's first game.  Impressed with the determination of Scheifele?  His thoughts on Chiarot's physicality?  His thoughts on Andrew Copp's game?  On losing the lead in the 3rd.  Has Laurent Brossoit proven anything that he didn't know in preseason?
All audio courtesy of TSN 1290 Winnipeg.
Up next:
Jets are back in action on Sunday with a game against the Rangers who played the Habs tonight in Montreal.  Get your day started with the morning papers at 7 am on illegalcurve.com.  Puck drop at MSG is at 5 pm.