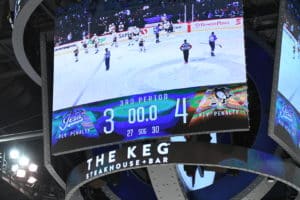 The Jets looked like they were in control of this one but some sloppy goaltending cost them and they fell to the Pens 4-3 in regulation to fall to 13-8-2 on the season.
For those who would like to take a deeper dive into the advanced stats here are the results from tonight's game via Natural Stat Trick.
Game play:
– Brandon Tanev opened the scoring with a shorthanded goal;
– Sidney Crosby showed that the backhand isn't a lost art as he tied up the game in the 1st;
– Dustin Byfuglien collided with Jamie Oleksiak which sent the Jets big man to the dressing room (he returned);
– Pens goalie Casey DeSmith was very good in the opening frame;
– Looked like Mark Scheifele was hurt as the 1st concluded but he came out to start the 2nd;
– Scheifele scored twice in the middle frame to give the Jets a 3-2 lead after 40;
– The Pens came marching back in the 3rd and scored two including one that Hellebuyck would like to have back to take a 4-3 lead and that's how the game would end.
Numbers:
– Mark Scheifele had 2G (12, 13);
– Blake Wheeler had 2A (24, 25)
– Nikolaj Ehlers had 2A (6, 7)
Notable:
– With Patrik Laine sitting with 19 goals and Mark Scheifele at 13 they are currently responsible for 32 of the Jets 77 goals (42%). Add Kyle Connor's 10 and you've got three players contributing 55% of the goals for Winnipeg.
– Who would have expected Brandon Tanev to have the same number of goals as Blake Wheeler, Bryan Little and Adam Lowry at the 23 game mark of the season?
Jets audio:
Blake Wheeler
Mark Scheifele
Connor Hellebuyck
Coach Maurice
Pens audio:
Sidney Crosby
Casey DeSmith
Coach Sullivan
Up next:
The Jets are scheduled to practice on Wednesday at 12 noon.