We are now officially one week into NHL Free Agency 2015 and there are still plenty of good players who have yet to sign their names on a contract. As far as the Winnipeg Jets are concerned, the team looks to be set in goal and on defense while there are still a few forward spots left on the roster that could be filled via Free Agency. Although it is quite possible that some of the vacant forward spots will be filled by rookies like Nikolaj Ehlers and Andrew Copp, it is unlikely the Jets go with more than two rookie forwards in their bottom six.
The Jets have locked up Drew Stafford and Alexander Burmistrov to contracts but the team lost Michael Frolik to the Calgary Flames while it is almost certain that Lee Stempniak, Jiri Tlusty and Jim Slater will not be back for the coming year.
To recap, here's what the Jets have done in Free Agency so far:
June 30- Jets signed F Drew Stafford (2 years, $8.7 million)
July 1- Jets signed F Matt Halischuk (1 year, two-way, $750,000), D Adam Pardy (1 year, $1 million) and F Alexander Burmistrov (2 years, $3.1 million)
July 2- Jets signed F Matt Fraser (1 year, two-way, $650,000), F Patrice Cormier (1 year, two-way, $650,000) and D Andrew MacWilliam (1 year, two-way, $600,000)
July 6- Jets signed D Julian Melchiori (1 year-, two-way, $600,000)
Let's take a look now at Five UFA Forwards who might be a good fit for the Jets: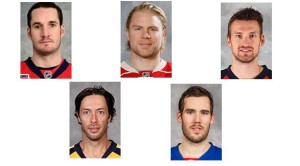 Curtis Glencross, LW
Glencross split last season between the Calgary Flames and Washington Capitals, managing 13 goals and 22 assists in 71 regular season games. Glencross also chipped in one goal in 10 playoff games. The 32-year-old Saskatchewan native has over 500 regular season games of NHL experience and has the ability to contribute in a variety of different game situations. Glencross may not have the same speed he once had but he is still a quality NHL player who could provide a steadying veteran presence on the third line alongside Adam Lowry.
Sean Bergenheim, LW
Sean Bergenheim,31, finished last season with the Minnesota Wild after he was acquired prior to the NHL Trade Deadline from the Florida Panthers. Bergenheim was a big disappointment in Minnesota, registering just one goal in 18 regular season games and playing in only three playoff games (no points). Despite last year's disappointment, Bergenheim is a skilled forward who had 16 goals for the Panthers just two seasons ago.
Brad Boyes, RW
Brad Boyes may not be the top scorer that he was back in 2007'08 when he tallied 43 goals for the St.Louis Blues but he proved last year that at the ripe old age of 32 that he could still get it done (78 games played, 14 goals, 24 assists, 38 points) Boyes is a shooter who would certainly provide depth scoring for the Jets. Boyes also has the ability to play a key role the Power Play which was evidenced by his 5 Power Play goals last year. The Jets are a young team and Boyes thrived last season on a Panthers team with many young players.
Matt Cullen, C
Matt Cullen is 38 years old but he still managed to put up 25 points (8 goals, 17 assists) in 62 games last season on a very good Nashville Predators team. Cullen has enjoyed a remarkable NHL career (1,121 career regular season games played, 219 goals, 407 assists, 626 points) and still has some gas left in the tank. Cullen could be the 4th line center that the Jets need with a proven ability to be a contributor on a team's penalty kill. Cullen is also excellent in the face-off circle (54% last season).
James Sheppard, C
James Sheppard has always failed to live up to the hype that comes with being a Top-10 NHL Draft Pick (2006, 9th overall by the Minnesota Wild). Sheppard has good size and offensive instincts but he has unfortunately struggled with consistency throughout his NHL career. Sheppard was acquired by the New York Rangers at last season's Trade Deadline from the San Jose Sharks and although he registered just two goals in 14 games down the stretch, he played in all 13 playoff games for the Rangers (one goal, one assist). Sheppard is still relatively young at 27 years old and the Jets could probably sign him for around the $2 million range.
———————————–
What do you think of these five UFA Forwards as possible options for the Winnipeg Jets? Let us know what you think in the comments sections below….