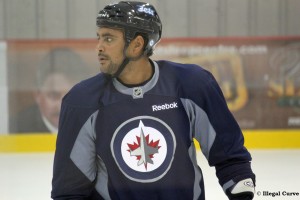 While he is more known for his joking, according to coach Maurice when he spoke with Dustin Byfuglien today the big man was serious when he told the coach that he will do "whatever you need".  In this case it means moving him from his favoured position on defence up to forward.  Coach Maurice told the media that they lost a top 6 forward in Perreault but added one in Byfuglien.
The Jets bench boss added on Byfuglien "He has been a great, great leader in our room and everybody knows that Dustin would like to play D but he doesn't make anyone pay for it when he has to go up front.  He will just yell at the defence when they don't pass the puck."
It is pretty clear that #33 has taken over the team and this team first mentality can only solidify that notion.