As the news seems to be coming in on a near hourly basis, come to Illegal Curve to catch up on all the day's news regarding the Drama in the Desert.
Toronto Sun:  Coyotes grossly overvalued.  Color me surprised, the Yotes are not worth what the NHL has stated they are.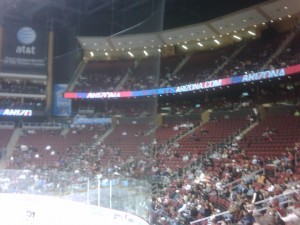 TSN:  Is the end of the Coyotes saga finally at hand?  Dave Naylor takes a look at the reality of the situation in Phoenix and says the "path back to Winnipeg has never been so clear".
Winnipeg Free Press:  Goldwater a tough customer.   Gary Lawless talks about the principles held by the people who work for the Goldwater Institute and how they won't compromise those ideals.

Toronto Sun:  Coyotes shell game over.  Paul Friesen says the time for talk is over and suggests the NHL Commissioner needs to put up or shut up when it comes to using the city of Winnipeg.
Forbes:  A key battle over the sports economics model.  Warren Meyer is surprised to be looking at the NHL, rather than the NFL, as the location of the battle underway challenging the very heart of the professional sports economics model.
Globe & Mail:  NHLPA keeps distance from Coyotes crisis.  David Shoalts looks at the possible involvement by new NHLPA boss Donald Fehr, who correctly asserts that this is a process that really doesn't involve the union.
Globe & Mail:  Signing off from Glendale.  Matthew Sekers empathizes with the people in Glendale as he remembers the pain and suffering associated with losing a franchise.

Winnipeg Free Press: Thriving Peg' ready for the NHL.  Geoff Kirbyson injects numbers into the debate as to whether or not today's Winnipeg could support an NHL team.

If you catch any news that we haven't posted, feel free to message us via twitter or send us an email.