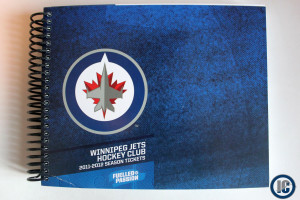 Jets season ticket holders got an email from the team today offering them an opportunity to support the troops:
On Saturday March 8th, 2014, the Winnipeg Jets will be holding their First Annual Canadian Forces Appreciation Day as they take on the Ottawa Senators at 2:00pm at MTS Centre.
In an effort to show your support to this dedicated group of individuals, we are providing Winnipeg Jets Season Seat Holders with the opportunity to donate your game tickets to allow members of our Canadian Forces and their families to attend this special game dedicated to them.
As a Winnipeg Jets Season Seat Holder, for each ticket you donate you will receive:
– An entry into a draw to win an Andrew Ladd Winnipeg Jets military jersey which will be worn on March 8th during the pre-game warm up.  The draw will be held Sunday March 8th, 2014 following the Winnipeg Jets vs. Ottawa Senators game.
– A charitable tax receipt for the value of the ticket(s) donated.
– 100 Bonus Jets Points for each ticket donated added on to your Jets Rewards account.
Log into your Winnipeg Jets Account, then click Manage My Tickets.  Select the March 8th game and then select "Donate Tickets to Charity".  Select the seats that you would like to donate.  Follow the step by step process and click "Donate Now".  A confirmation email will be sent to the Primary email address on your Winnipeg Jets Account.