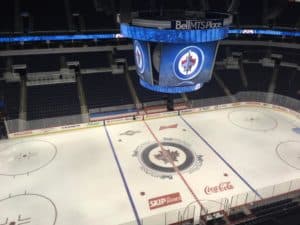 Normally we do not need to recap all the action with the Jets usually just making a move or two on Trade Deadline Day.  Today however Jets GM Kevin Cheveldayoff made six moves acquiring:
| Kevin Hayes | Matt Hendricks | Nathan Beaulieu | Bogdan Kiselevich | Par Lindholm| Alex Broadhurst |
The teams and moves that were made are as follows:
1) Jets & Rangers:  Kevin Hayes for 1st (2019), Brendan Lemieux, conditional (if Jets win Cup) 4th (2020).
2) Jets & Wild: Matt Hendricks for 7th (2020).
3) Jets & Sabres: Nathan Beaulieu for 6th (2019).
4) Jets & Panthers: Bogdan Kiselevich for 7th (2021).
5) Jets & Leafs:  Par Lindholm for Nic Petan.
6) Jets & Blue Jackets: Alex Broadhurst for future considerations (minor league deal).
In addition to these trades the Jets reassigned Mason Appleton and Tucker Poolman to the Manitoba Moose.  This means they are eligible to play in the AHL playoffs.
As per the Jets PR the numbers these players are going to wear are:
No. 12 – Kevin Hayes
No. 15 – Matt Hendricks
No. 22 – Par Lindholm
No. 52 – Bogdan Kiselevich
No. 88 – Nathan Beaulieu
Following the conclusion of all the trade calls Jets GM Kevin Cheveldayoff spoke for just over 22 minutes about the moves he made today and the state of his franchise.  While the suspicion is that Josh Morrissey's injury suffered on Sunday night in Arizona isn't good, there was no update from the GM as he felt the player needed further evaluation by the team doctors.
As always stay tuned for the latest Winnipeg Jets and Manitoba Moose news by keeping it locked to our web site  illegalcurve.com and on social media including Twitter | Facebook | Instagram.  You can also follow me on twitter as well (@icdave).