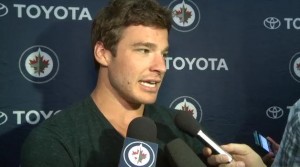 Update III – Jets Athletic Therapist discussing injury:
Rob Milette – Providing reporters with an update on the status of Zach Redmond.
Audio courtesy of TSN Radio 1290.
Update II –  The Jets released this statement:
The Winnipeg Jets would like to announce that defenceman Zach Redmond underwent surgery today for approximately three hours at a Raleigh area hospital to repair a laceration to his right femoral artery and vein.
The injury to his mid-thigh region was the result of an accidental cut from a skate during drills at the end of practice.
Zach is currently resting comfortably in recovery and is expected to be out an indefinite period of time.
The Winnipeg Jets will provide further updates as appropriate.
The Jets would like to recognize the quick actions of the team's training staff and teammates in helping Zach receive the urgent treatment necessary.
Update – Coach Noel audio post practice:
Coach Noel – Discussing the injury to Redmond.
Audio courtesy of TSN Radio 1290.
Both Winnipeg Free Press reporter Ed Tait and Winnipeg Sun reporter Ken Wiebe reported that the Jets Zach Redmond was cut on the leg during practice today, which necessitated an ambulance being called.
Ed Tait:
Ken Wiebe: