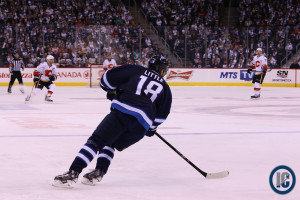 Coach Maurice broke the news in his game day scrum that Bryan Little is done for the season.  This is quite a surprise as there was some talk that the Jets #1 centre could have joined the team on the road trip with an aim to play against the Penguins in Pittsburgh on Saturday night.
However the Jets bench boss called it a "compression fracture of his T6 vertebrae.  That is as technical as I can get for you.  It is mid to lower back.  It was a significant amount of force that caused the compression fracture.  And he will be out for the remainder of the regular season.  We think it is an eight week injury.  Coming off that injury though, we would expect because it is stable, and again I'm not a doctor, it's the big bone of your spine, that once he heals through that process he should be ready to go.  The muscles will have calmed around and he will be ready to be a player and ready to train."
In case you missed it the injury occurred in the game against the Lightning on a hit by Anton Stralman.
When asked how he plans to fill Little's spot the coach acknowledged that it is a problem saying "I'm going to move somebody into centre ice who hasn't played centre all year and then Mark Scheifele becomes the old man at centre ice.  Your centre ice position drives so much of what you do.  We are going to miss him greatly."
In response the Jets have called up Matt Halischuk from the Manitoba Moose.