Edmonton Journal:  Edmonton is no place for Ryan Nugent-Hopkins says American radio host.  Not too sure anyone is gonna put too much stock in what Colin Cowherd has to say about the NHL.   I'm sure he feels that most of the star players should be in US cities to "elevate" the game but I think the NHL knows where the bread is buttered.  With a strong dollar and strong economy, teams like Edmonton and Winnipeg are doing more for the NHL than a lot of their southern counterparts. 
Boston Herald:  Milan Lucic, Bruins ready for action.  Lucic said "it is something that comes with the game" in response to having any expectation for retaliation from the Sabres.  You can a lot of eyes, including those of head NHL disciplinarian Brendan Shanahan to be watching this game.
Sun Sentinel:  Florida Panthers have plenty to be thankful for.  Who would have expected that at this point in the season the Panthers would be 1st in the Southeast division.  Is this result more about the Panthers excelling or the Capitals/Lightning faltering?
Globe and Mail:  A new NHL-ready arena in the GTA?  Looks like the race might be on between building a new arena in Quebec City and the GTA.  Which area would better serve a hockey franchise?
The Hockey News:  Top 10 NHL faceoff men.  Most of the Jets leaders are in the 50% range.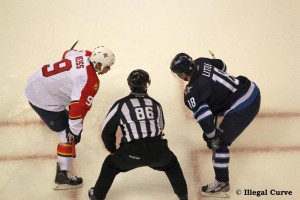 Calgary Herald:  Struggling Flames face culture shift.    Sutter definitely sounds frustrated with his team right now.
Toronto Sun:  Leafs' kiddie corps annoying rivals.  The Leafs seem to have caught the league by surprise and even though they faltered of late, the team still remains 2nd in the East.
Los Angeles Times:  Doughty fined $2,500.00 for hit on Oshie.  The video is embedded in the link.  What did you think of it?