Winnipeg Free Press:  Kane, Wheeler hit the ice in Winnipeg.  Sounds like Kane is ready for the pressure of playing in a Canadian city.
Winnipeg Free Press:  Jets jerseys almost as sought after as tickets.  The Jets sold 1300 jerseys in less than 24 hours.  Wow.  Speaking of tickets, while Winnipegger's wait for the Jets season tickets to be released, a friend in Toronto has sent us a picture of his Leafs/Jets tickets.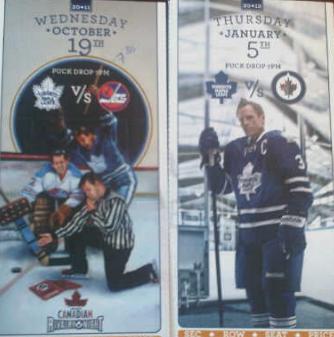 After the jump Kane/Wheeler latest Jets to arrive and a bit more on the new ECHL affiliate in Colorado.  KHL has a bold plan to honour memory by keeping Lokomotiv running while players in Detroit agree that playing in Russian is a 'different way of life'.  In 'Around the NHL' news we take a look at the Top 10 storylines to watch this season.
Winnipeg Sun:  Kane and Wheeler among latest Jets to arrive in Winnipeg.  Kane learnt a bit about how hockey nuts this market is when his arrival at the airport was sent across the internet on twitter.

Coloradoan:  Eagles announce affiliation deal with NHL's Winnipeg Jets.  Winnipeg is hoping to emulate it's ECHL team when they begin their own sellout streak at the MTS Centre.
KHL Tragedy:
Yahoo Sports:  KHL's bold plan to keep Lokomotiv running.  You have to give the players and other teams in the KHL credit for attempting to honour the memory by keeping the team alive.
Detroit News:  Wings agree – Playing in Russia 'a different way of life'.  It makes you wonder what will happen in Sochi in 2014.
Around the NHL:
The Hockey News:  Top 10 NHL storylines to watch this season.  Fans in Winnipeg are anxiously awaiting word that Bogosian has signed.