For those fans on the outside looking in, today was a chance for those on the wait list to get preferential treatment as fans were given access to the Jets practice.  It was a party atmosphere inside the MTS Centre as approximately 2500+ showed up to watch their team run drills.
For those unable to attend here are some pictures from the hour long practice.  Enjoy.
Coach Noel gives fans at MTS Centre some info on how he plans on running practice:
Fans making some noise:

Flight staff giving away Andrew Ladd bobble head dolls:

Dave Wheeler interacted with fans giving away prizes for Jets trivia.

Coach Noel gets mic'd up:

Still have a practice to participate in.

Coach Noel running drills as fans watch on:

Final chat with his squad for the day:

Evander Kane signs some of the Jets gear to be thrown to the crowd:

Kane throwing the hats into the crowd: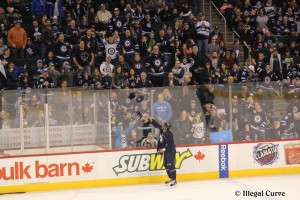 A young fan happy to be on the receiving end of that toss:

Zach Bogosian gets in on the action:

Birthday boy Grant Clitsome takes his turn: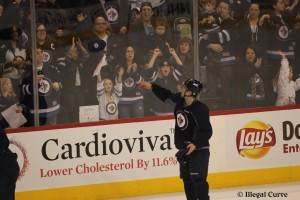 Captain Ladd signs some hats before sending them into the crowd:

Bogosian, taking his cue from Big Buff tosses a stick into the crowd:

Buff gets another stick to giveaway and hands it to this appreciative young man: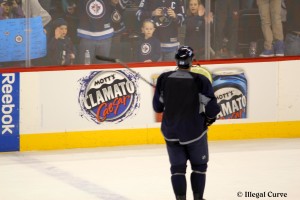 In addition to all these giveaways the Jets gave away an Alexander Burmistrov jersey and tickets to next Saturday's game against the New York Islanders.