As Richard just wrote about in his lead up to the game, the atmosphere at the MTS Centre last night as the hometown fans watched their Jets beat the Blue Jackets 6-1 was without compare.  I've been to Stanley Cup Final games, I've been to Grey Cups but last night was just an entirely different sort of experience.  For those who missed it, or want to re-live the memory of the Jets game that was, here are some pictures from last night.
Pre-Game Skate:
There was an energy in the MTS Centre even before fans had entered the building:

The players skated out in their white jerseys to the delight of the crowd:

Jets take first pre-game skate:

If we only knew the type of performance he's about to put on:

Big Buff was gonna give the crowd a show as well:

Winnipeg's own Kevin Clark would have a memorable night:

1st round pick Mark Scheifele shows off his puck skills:

Shoot around:

Game Shots:
Whenever this went off (which was often) the crowd went crazy:

Game play pauses for a tv timeout:

The intensity on the bench made it feel like anything but an exhibition game: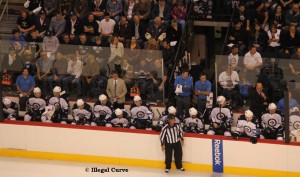 Alexander Burmistrov has the makings of a very dangerous player for the Jets:

Big Buff doesn't just score, he also likes to mix it up, as he did at the end of the 1st:

Jets captain Andrew Ladd starts off the 2nd period with a faceoff win:

Big Buff starts in the sin bin:

The Jackets Cody Bass was looking to fight all night and here the Jets Patrice Cormier gives him a dance:

Winnipeg's own Kevin Clark gets a congrats from Big Buff after scoring the goal of the night:

The 3rd period belonged to the Jets 1st round draft pick: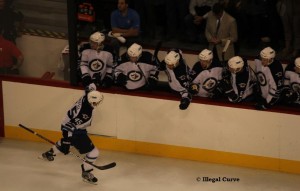 After all the excitement of last night's 1st Winnipeg Jets exhibition game in ages, I can only imagine the explosion which is going to blow the roof off the MTS Centre when the Jets take to the ice against the Montreal Canadiens on October 9th.