There has been some consternation in Jets land among the fan base that 2013 5th rounder (127th overall) Tucker Poolman wouldn't sign with the team once his college career ended.  This was largely due to his return to University of North Dakota this past season after they won the NCAA championship the previous season.  However many simply saw this as the East Grand Forks, Minnesota native wanting a chance to play with his brother Colton who joined the Fighting Hawks for the 2016-17 season.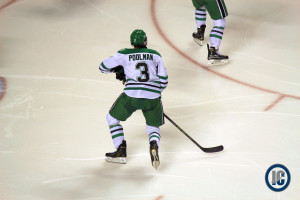 The 6'4″ defenceman's numbers at UND were:
2014-15: 40 games (8 goals 10 assists)
2015-16: 40 games (5 goals 14 assists)
2016-17: 38 games (7 goals 23 assists).
But the Jets finally got their man when they agreed to contract terms with the Minnesota product as first reported by Brad Schlossman of the Grand Forks Herald today and then the actual contract terms were reported by Gary Lawless of TSN.  Those details are: "one-year ELC for $1.775 million (salary and bonuses). Contract starts next year.  Poolman will be a Group 2 free agent after his one-year ELC expires (RFA with arb rights).  Poolman's AHL salary will be with $70,000".
But in case you're wondering what he's been up to with the Fighting Hawks this season we have this via Brad Schlossman of the Grand Forks Herald:
The East Grand Forks Senior High graduate plays between 25 and 30 minutes per night, running the power play from the point and leading the penalty kill with his long reach and physical play.
Jets fans can finally breathe easier knowing he is in the fold.
Jets Release:
The Winnipeg Jets announced they have agreed to terms with defenceman Tucker Poolman on a one-year entry level contract with an annual value of $1,775,000.
Poolman, 23, tallied 30 points (7G, 23A) in 38 games as a junior with the University of North Dakota Fighting Hawks this season. He was selected the National College Hockey Conference Defensive Defenceman of the Year and named to the All-NCHC First Team and All-NCHC Tournament Team. Last year as a sophomore, he had 24 points (5G, 19A) in 40 games, as he helped UND capture the NCAA championship. He finished his career with the Fighting Hawks with 72 points (20G, 52A) in 118 games.
Poolman will now undergo bi-lateral shoulder surgery with the first surgery coming later this week. His availability for Winnipeg Jets training camp will be determined upon completion of his second surgery.
Update:  Tucker Poolman attended the Jets and Ducks game and spoke pre-game for about seven minutes.  Listen here.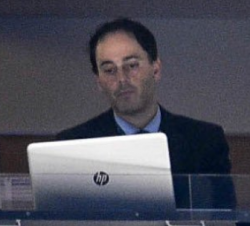 Latest posts by David Minuk (see all)