Note:  As you have likely noticed we've changed the website.  Please ensure you've cleared out your cache (ie. clear browsing data) to ensure that you are seeing it 'refreshed'.  We hope you enjoy the changes to the site.
Note II: After the Jets game, be sure to check us out for all the post-game reaction. As soon as illegalcurve.com is updated we notify you via Twitter | Facebook | Instagram.
Jets news:
Winnipeg Sun:  Jets look for first win at home.  Ken gets you set up ahead of the action with his preview for game 5.  Can the folks inside Bell MTS Place use the Whiteout to help the home team?  We shall soon see.
Winnipeg Free Press:  Perreault pleads guilty…ish after tense time in St. Louis penalty box.  (Paywall).  While the refs tend to put the whistle away in the playoffs you still have to be aware and clearly the message from the coaching staff is to keep skating.  
Sportsnet:  Kyle Connor overcoming learning curve of playoff hockey. All part of growing as a player is adding new pieces to the toolbox and the dynamic forward from Michigan continues to develop his game which will be a huge asset for the player as well as for his team.
TSN: Jets looking to finally find home success vs. Blues.  Pretty wild that neither team has been able to find the recipe for success at home.
CBC:  They did a survey, and guess what? (Almost) everybody loves Jets, and Big Buff most of all.  Guess what?  I've never done a survey and didn't need one done to tell me that 33 was the most popular player playing for this organization.  
Illegal Curve: Jets vs.Blues pre-game 5 report. The Jets were on the ice today in Winnipeg as they prepared to face the Blues at 7:30 pm CT. Includes projected lines, D pairs as well as audio from Adam Lowry and Josh Morrissey.
Illegal Curve: Morning Papers.  If you missed any of the news from earlier today we have you covered.
Jets video:
TSN: Patrik Laine doing all the little things right. Game 4 was the first one Patrik Laine didn't record a goal in but his head coach said it was the most complete game he's seen him play. Sara Orlesky and Darren Dreger examine Laine's play so far against the Blues and also touch on which top line has out-dueled the other so far.
TSN:  Kyle Connor doesn't see any reason why Jets can't bring road mentality home.  Game 4 OT-hero Kyle Connor's joins Darren Dreger to talk about how there shouldn't be any reason why Winnipeg can't bring its road mentality back home.
TSN: Have the Jets established they're the better team, or simply won two games? First Round Frenzy continues and in today's edition of Right Now, Frank Seravalli shares his thoughts on if the Jets have established themselves as the better team, or simply won two games. Seravalli also discusses how Washington will respond and if San Jose is struggling because of a deadline day miss.
Jets audio:
Illegal Curve: Coach Maurice pre-game. Topics included – Home ice advantage?  On Mathieu Perreault's penalties.  Need to have a chat with him?  On the way the TLC line plays and the lack of penalties. What stood out to him about the play of the Scheifele lines through four games?  On the overall competition in the NHL playoffs.  Improved play from Sundqvist changed the matchup game for him?  On Kyle Connor learning a lot from playoffs last year and the different player he is today.  On Patrik Laine's complete game. Do they need to reinforce that with Laine?  Is it a tough sell to a player like Laine that that game was his best vs one he scores five against the Blues?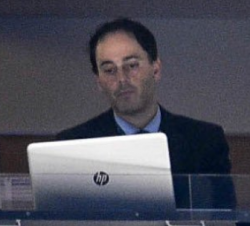 Working hard on a daily basis to provide the latest Winnipeg Jets and Manitoba Moose news for our readers and listeners.

I also appear on the Illegal Curve Hockey Show every Saturday on TSN 1290 Winnipeg starting at 9 am.

And I occasionally jump in the play-by-play booth at Bell MTS Place to provide colour analysis during Manitoba Moose games.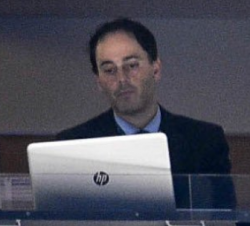 Latest posts by David Minuk (see all)