Winnipeg Jets RFA Analysis: Value in Wheeler
On Monday news broke that the Winnipeg Jets had signed Blake Wheeler to a contract.  Initially, there were no contract terms released so we were left to ponder the details of this fairly surprising (timing-wise) signing.
With Wheeler having gone to arbitration last summer and having successfully obtained a contract of $2.2 million with the Bruins, logic may have dictated that Wheeler would not be so averse to walking down that same road once again.  Well, it appears Wheeler, his agent Matt Keator (who was interviewed on the IC Hockey Show just after the contract became public) and Jets management had different ideas.
Sure we knew Jets management wanted to avoid arbitration; in reality, every team does.  No GM, especially a first time NHL GM of a reborn franchise, wants to rip apart a player, through the arbitration argument, he hopes to build around moving forward.  That is an awkward position for everyone involved, except for probably Wheeler's agent.
Even with all those considerations taken into account, Wheeler appeared to have the leverage to command a reasonable salary increase.

More on the Wheeler signing after the jump.
That is what makes the announcement of the terms of this contract so surprising.  The Jets were able to lockdown Wheeler for two seasons (which was reasonable term for both sides) at a cap hit of $2.55 million, or, only $350,000 more per season than his $2.2 million cap hit last season.
Think about that for a second.  Sure Wheeler was a restricted free agent (RFA), and will still be for one more season after the expiration of this deal, but the former University of Minnesota standout settled for a contract raise that was anything but considerable–in NHL terms.
In late June, we provided five comparables within our Wheeler negotiation analysis.
The five players listed were:
1. Patrik Berglund (STL)
2. Patric Hornqvist (NSH)
3. Bryan Little (WPG)
4. Kris Versteeg (FLA)
5. Jakub Voracek (PHI)
All of those five players were in fairly similar situations to Wheeler prior to signing their current deals.  In fact, the average cap hit for those five players is just about $2.65 million per season.  Taking into account Wheeler's improved production in Atlanta (small sample taken into account) and his numbers comparing favourably to those five players and it is quite surprising the big American winger settled for a cap hit less than the average of those five players.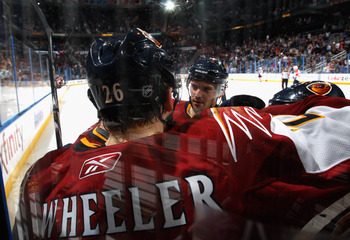 Kevin Cheveldayoff and the rest of Jets management did a nice negotiating job in this instance.  Whether he admits it or not, Wheeler was likely looking to avoid arbitration for a second consecutive summer and Cheveldayoff used that to his advantage.
Considering Cheveldayoff told us on July 6 (listen here) that the parties were not that close to getting a deal done, makes one wonder what the initial bargaining positions were.
Taking into account the average annual NHL salary increase and the fact Wheeler had a modestly better statistical season in 2010/11 than in 2009/10, it would have been surprising to see an arbitration award below $2.5 million. With that in mind, one has to wonder if Wheeler pushed for a contract resolution, so as to not endure the criticism and uncertainty that surrounds the arbitration process.
Of course, there is a personal element here we do not speak about often enough.  Maybe Wheeler and his agent decided there was a certain number they were comfortable with and that Wheeler was going to agree to that number for a two-year term and begin his transition to Winnipeg.  From a personal standpoint, the arbitration date was set for August 3.  The rulings comeback within 48 hours.  So, waiting until that time to strike a deal–while all the while arguing over probably $200,000 to $400,000–would have left Wheeler just over a month to move with his wife to Winnipeg, pick a house and organize everything else that comes along with such a move.
From an overall numbers perspective, the Jets probably get the "W" in this case; from a real life perspective, it appears both sides are happy.  When that is the case, Jets fans are the biggest winners.